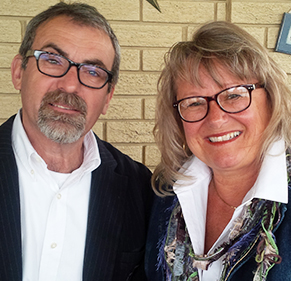 Our Story
James and Janneke moved from Toronto to the Quinte Region 30 years ago, settling in Prince Edward County.
Fishing along the shores of the Bay of Quinte, they discovered a one acre property for sale on the shores of Big Island. They quickly fell in love with the area and decided that it was where they wanted to build their dream home and raise a family. Jim spent that winter designing the home and building began the next spring. It took ten years to finish it and they are now currently redecorating.
James:
With a background in Civil Engineering, James has an artistic flair when it comes to flooring design. He is able to help a client go from an idea to the finished project stemming from 40 years experience.
Janneke:
Janneke was a stay at home mom until 14 years ago, upon deciding to join the retail side of the flooring industry. Working for an international flooring company gave her the opportunity to expand in knowledge of the flooring industry and window fashions, along with the ability to share her decorating skills with clients over the years. As a Certified Interior Decorator, Janneke can assist you with all of your design needs.
Both James and Janneke are members of Prince Edward County Construction Association and the Belleville Chamber of Commerce.